HACH公司的袖珍比色计II新增了一些功能,但它仍具有以前产品的优点。无论您身在何处,袖珍比色计II都能为您提供可以昂贵的实验室测量仪器相媲美的准确的、可再现的测量。该仪器在出厂时就有35种参数的内置程序,大多数参数都是基于环保局认可的分析方法,无需手工校正工作,只要使用空白调零,然后插入反应完全的样品,就可直接读取结果,非常方便。袖珍比色计II仅重0.23kg,便于携带。



The new Pocket Colorimeter II is the next generation of pocket colorimeters with improved usability, functionality, and performance. The new product offers:
· 43 unique pocket colorimeters;
· 34 calibrated, method specific instruments and
· a series of generic, user-calibrated models at nine different wavelengths.
The new single wavelength colorimeters offer: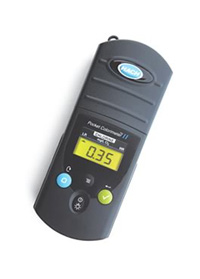 · an improved display with a backlight,
· a menu driven user interface with range/method selection,
· data storage and recall, and count down timer as well as
· user calibration and standard adjust capabilities.
Utilizing the latest in optical technology, the range and precision of the pocket colorimeter has been improved.
The new pocket colorimeter has been redesigned to improve the durability, functionality and performance of the original Pocket Colorimeter. The new design offers a waterproof, IP67-rated enclosure that is rated for 30 minutes at 1 meter deep. The instrument is also capable of floating and has been designed to prevent the cap from being lost with an integrated lanyard.
A new optical design has been implemented to integrate the sample cell holder with the detector and pre amp. This has allowed for greater absorbance range from 1.00 Abs of the original pocket to up to 2.500 Abs. This will allow each new pocket to have a greater measuring range, improved resolution and combines methods such as high and low range into a single instrument.
The user interface for the new Pocket Colorimeter has been improved significantly to allow simple method use, user calibration and standard adjust, range/method selection and identification, and data storage and recall. This interface has been combined with a large LCD display with a backlight function for use in low light conditions.